Roller Disco
Contributing Director: Naomi Kleinschmit
Photographer: Jess Hume-Pantuso
Makeup:Naomi Kleinschmit & Sofie Guglielmi
Model: Sofie Guglielmi
If you are looking at what is going to be trendy this year, be sure to keep an eye out on subtle influences from the 70s. This means disco Studio 54 esque inspiration on fashion, influences on winter outerwear, potentially music/media, and possibly your hobbies.
We left 2021 with a huge resurgence in roller skating, thanks to many people picking up this hobby because of the pandemic. Roller skating was extremely popular during the '70s but has been around long before that. In the 70's it regained popularity due to the birth of the roller disco, which was disco and roller skating combined. Simply put, it was a place where people would roller skate at roller rinks while listening to disco music in disco attire. 
Subtle influences of disco attire are presently making a comeback. Italian fashion house Fendi included aspects of 70s style in their runway show for the spring and summer of 2022. This was seen in numerous ways, from models wearing fur coats, wavy hair, glossy lips, sparkle on multiple pieces – this was seen, especially on dresses– the silhouettes and the color palette. Even the setting for the runway show was heavily inspired by the '70s. In a behind-the-scenes video on Fendi's website about the runway show, Kim Jones shares that they thought about the '70s and then "thought about Rome as sort of a disco set." Jones also shared about taking inspiration from Antiono Lopez. Lopez worked with Carla Fendi in the early '70s, and the logo that Lopez had done was brought back in some of the looks from the spring and summer 2022 runway show.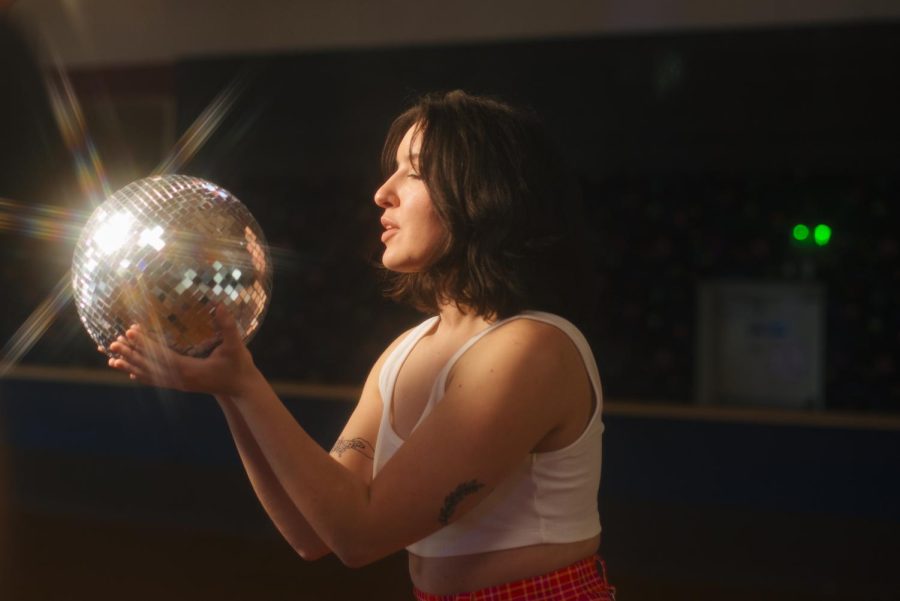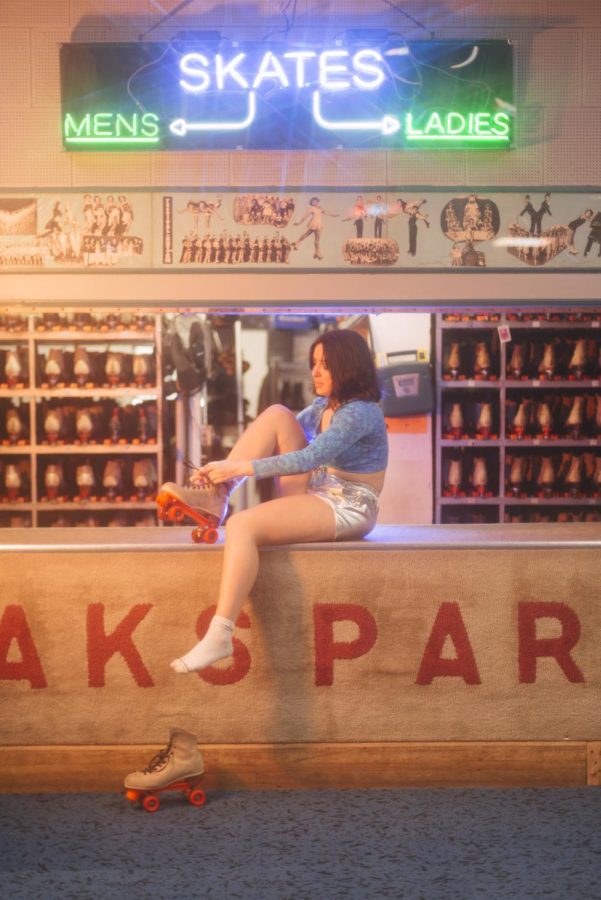 One of the big pieces inspired by the '70s from the Fendi spring and summer 2022 show was fur coats. Similarly, fur trim was also a style that has been popular in outerwear for this winter this year. Retailers like Target have even noticed this trend, and this winter produced coats resembling those of the 70s that feature this fur trim. Fur trim pieces, especially awesome authentic pieces, can also be found at vintage and thrift stores.
Other big-name retailers are also making pieces reflecting the 70's disco style, some even with deadstock authentic fabric. The blue long sleeve top that was used for this piece came from Urban Renewal, and was purchased within a month of when the shoot for this issue took place. Urban Renewal is a part of the retailer Urban Outfitters. What makes Urban Renewal its own unique thing is that all of the pieces in this collection are made from fabrics or pre-existing pieces that are vintage and then turned into one-of-a-kind items. According to the Urban Renewal page on the Urban Outfitters website, they began curating vintage items in the 70s. 
Brands like Urban Outfitters, therefore Urban Renewal, like to keep up with trends. One of the trendy shows that has influenced fashion since it came out and is currently airing its second season is Euphoria. The first episode of the season was very hyped up, and something that fans were looking forward to. In this first episode, at least four songs were from the '70s, like "Right Down the Line" by Gerry Rafferty and "Dirty Work" from Steely Dan. About two weeks after the first episode came out, the song Dirty Work got used over 2500 times on TikTok, and it got added to the popular sounds category on the app. Videos with this sound and 70's disco attire are also slowly starting to arise. 
With the subtle 70's influence, we are seeing, especially relating to 70's roller disco, there are few and far between places to go to get that roller disco glamor feeling due to so many roller rinks closing because of the pandemic. However, the oldest roller rink in the country is still open, and it is not too out of reach for Oregon State students. Oaks Park Roller Rink is the oldest in the country, and is located in Portland Oregon, it is even hosting an event in February of 2022, that is 70s and 80s roller disco-themed. Though places and times to go to a roller rink and get the 70's disco experience are becoming sparse, the presence of 70's style and glamor isn't going anywhere this year. In 2022, there are going to be references to the 70's aesthetic in multiple facets of life and style as it subtly influences trends for this year.
Was this article helpful?