Be Kind to your Skin
Winter and the cold weather it brings each season is the perfect storm to disrupt even the most hydrated skin. As I relish in the fun festivities – being with family and friends, attending events, or going out to dinner, there is one thing that always seems to linger in the back of my mind: my dry skin. 
I hope I'm not the only one who notices that as soon as one single breath of 40 degree or below air hits my face, my skin goes on strike and begins to dry up like no other. I knew there was something I could do that would counteract the war my skin begins with me every time winter rolls around, and eventually I found my solution- or many solutions. So, without further ado, I would like to share with you all, dear readers, an in-depth routine to keep your skin hydrated during the winter, or any time you may face (pun intended) dry skin. 
First, I would like to introduce to you the products that saved my skin (and sanity) in more detail before I outline a step-by-step routine to follow with said products. 
First, my go-to cleanser for half a year now has been Youth To The People's "Superfood Cleanser". This cleanser not only smells clean and fresh, it also works magic on your skin as you enjoy its scent. It deep cleans and prevents build-up in your pores while also being ph-balanced so that it doesn't dry your skin out! Though this product may be on the spendier side, I promise it lasts me months for the eight-ounce size. Try it for yourself and sample the two ounces for $12 if you feel so inclined. 
Next, I would like to introduce to you the most amazing facial oil on the planet; rosehip seed oil. Though you can find this oil in many places, I've found The Ordinary sells their "100% Organic Cold-Pressed Rose Hip Seed Regenerative Oil" for a remarkable price. Not only that, it is conveniently sold at Ulta, right by Trader Joe's here in Corvallis. Rosehip seed oil offers both immediate hydration and a more supple, radiant-looking complexion. It's almost like a two-for-one kind of deal that, personally, I think you should try out if your skin is in need. 
Lastly, my next two holy grails of winter skin care are both moisturizers. I mention two because one is specific to night but I'll get more into that later. 
The first moisturizer I just recently have been using and absolutely love is the "Skin Food" moisturizing cream from the brand, Weleda. This cream offers instant hydration that, due to its plant-extract formula, quickly absorbs into the skin. I also have noticed that it gives me a very dewy look even under my makeup! 
 The second moisturizer that I have been using for over two years now which many of you probably are familiar with, and for good reason, is CeraVe's "PM Facial Moisturizing Lotion". I think if I had to pick one product to take with me on a desert island, it would be this one. It is so moisturizing and has never failed me once. Now that I have highlighted some of my favorite products you could consider adding to your routine, let's get into the routines themselves. Here I will provide a morning and night routine to have the most hydrated skin of your life. Enjoy!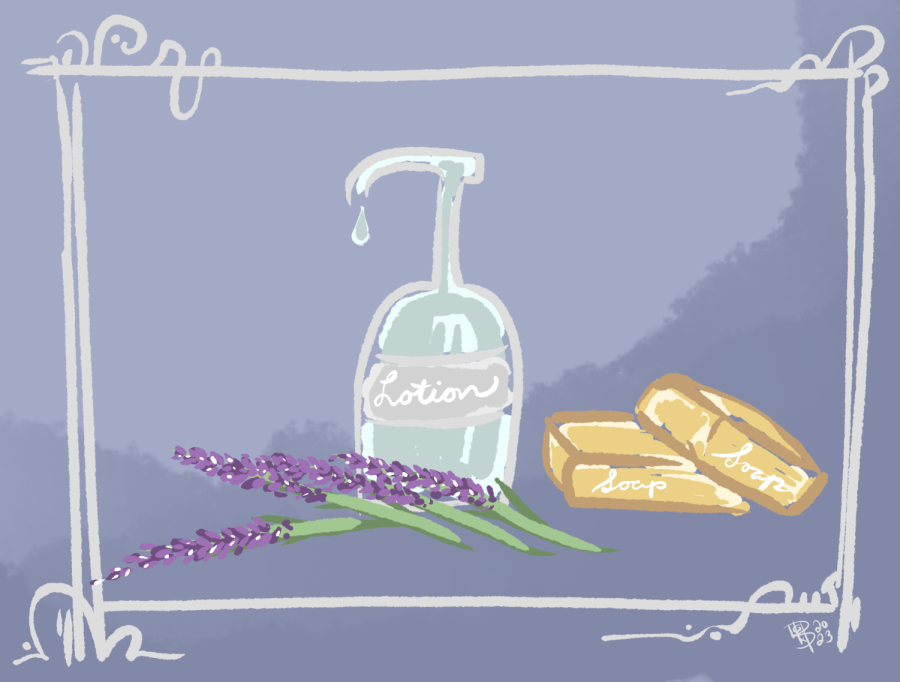 Illustration by Han Beck
Morning Routine
Wash your face with lukewarm water (not too hot, not too cold, both can dry the skin out) using a hydrating cleanser such as Youth To The People's "Superfood Cleanser." Lightly pat dry.

Use a toner such as a witch hazel. Drip some of the toner on a cotton ball and lightly rub on your face.

Rub a moisturizing oil of your choice onto your face using an upward motion rather than pulling and rubbing your skin down. Rosehip seed oil would be a great choice to use as an oil here. 

Moisturize your face with a hydrating moisturizer such as Weleda's "Skin Food" cream. 

Apply sunscreen (yes, there is still sun in the winter even though it doesn't seem like it). I prefer to use a cream-based sunscreen so it blends into the other products better. 
Night Routine
Repeat the first two steps of the morning routine before moving on to the rest.

Moisturize this time using a more heavy-duty moisturizer such as CeraVe's PM facial moisturizer. 

Use a cream under those eyes to lock in moisture around that area of your face and protect the delicate skin that is there surrounding your eyes. 
Best wishes of only hydrated skin this winter, 
Aden Hurdstrom