Nathaniel Olsen Columnist Introduction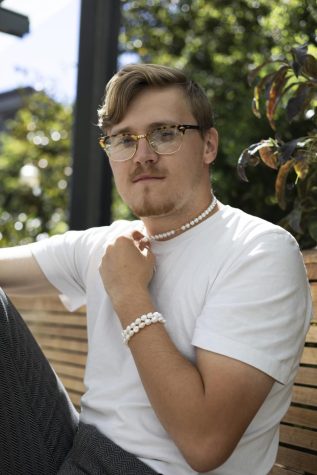 Before I get ahead of myself, I wanted to introduce myself and give a little background on who I am and how I hope to use this platform to elevate diverse stories of fashion, especially as a young person.
My introduction to fashion was a slow progression. I never was really taken shopping or pointed in any direction growing up in Corvallis. Corvallis doesn't have any men's fashion retailers, so I would always travel to Woodburn or Portland when I wanted to find clothes. Like many other Gen Z boys, I would obsessively scour Nike.com, playing with NIKE-ID for hours and eventually leading to my Nike cart to become a museum of "if only". There was a necessary level of adventure in clothing, having to travel both physically and through the internet to find clothing that spoke to me.
I won't lie, I was a bit of a hype beast back in the day. In other words, I was obsessed with hype culture. It touched me in a way nothing else had to that point. I would consume all of the media I could about the hype brands of the 2010's, and while I had sneaker-head friends that kept me engaged in that community, my focus was all about the clothing. From the time I was 15, I had an Off-White belt in my Stock-X likes. Virgil Abloh had me hooked and this is something I would never look back from. 
The creators of the 2010's did such a great job democratizing fashion, destroying many of the barriers of race and class. Abloh calls this the "Tourist versus Purist" mentality. I felt that impact wholeheartedly as I began to be introduced to traditional high art and fashion and I'm still falling in love even more with it everyday. Suddenly, I was getting my hands on old menswear magazines from Ralph Lauren, 90s Georgio Armani and the Japanese heritage brand Van Jacket. I am an addict for menswear, something that I feel is lost in today's form of mens dressing for many reasons. 
Now I am tuned into the world of fashion from all angles, watching almost all of the fashion shows during the various fashion weeks throughout the calendar year. I'm also still reading the same fashion blogs that got me into the space, reading up on the latest streetwear and menswear pieces and trends. My top three brands at the current moment are Bode, Comme de Garcon, and Schiaparelli. I think anyone's top three brands list should be a required question on first dates. Try it and you might avoid some unnecessary heart arche. That being said, I am so inundated with thoughts about clothing, I hesitate to scoff at anything at least at first. 
I love when clothing has a history and tells a story expanding upon that history. Clothing tells the story of us. How we are feeling both in the moment and about the past. Fashion shows how we celebrated, and what communities we took part in. Those who say that they just put on clothes and don't think about it are doing themselves a disservice because it's simply biology that dressing with a dignified personal taste, no matter what that means, makes you a happier and more fulfilled person. You are more yourself, and there is nothing more beautiful than that. 
This year, this column will be an exploration of fashion and dressing. I hope to introduce a whole bunch of brands as well as give great resources on dressing well and finding an individual sense of style and uniform in the context of college. What I hope most is that this sparks a conversation, so feel free to Direct message me on instagram @nate_olsen12 with anything fashion related. I wish everyone a great fall semester and stay tuned for plenty of one of a kind content from DAMchic Magazine!
Was this article helpful?