Something Old, Something New, Something Vintage for You
Contributing Director and Writer: Zeva Rosenbaum
Photographer: Ashton Bisner
On 5th street sits a small but adorable red-brick building with a handmade sign reading LINT. This is Corvallis' newest vintage clothing shop, run by a trio of roommates: co-owners Charlie PeBenito and Jake Nielson, and creative director/social media manager Chanti Manon. 
Charlie stands next to the counter beside Chanti, saying he always wanted to start a small business, not necessarily a vintage shop, but something creative, something artistic. Jake agrees, saying Lint was the product of COVID-19 and burnout during his undergraduate studies.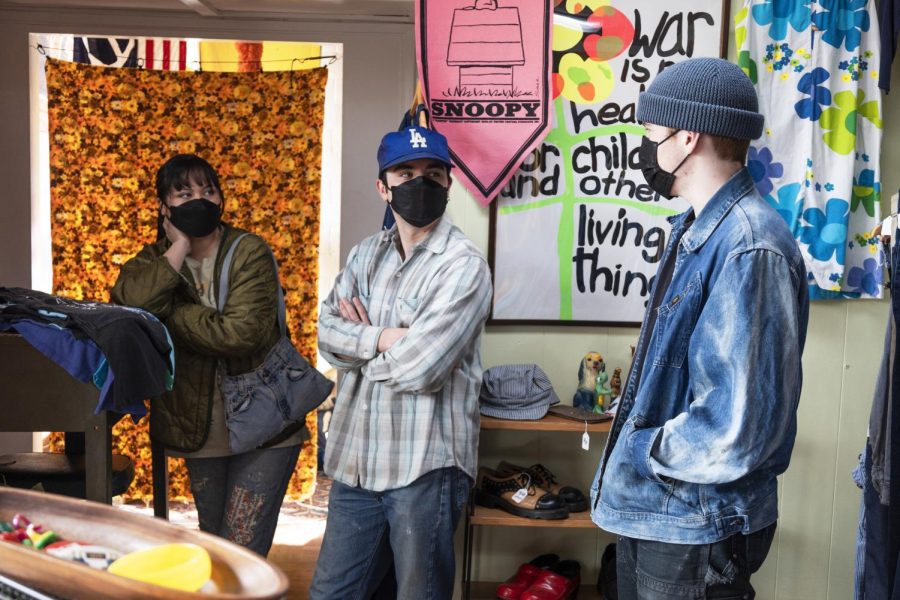 Jake says it was difficult to find a name that was short, available, and still clothing-related. Charlie didn't want "vintage" in the name, but the clock was ticking when Jake came up with "Lint" in passing. They even managed to get the Instagram handle @Lint which, as anyone who's spent time on social media knows, is quite a feat in and of itself.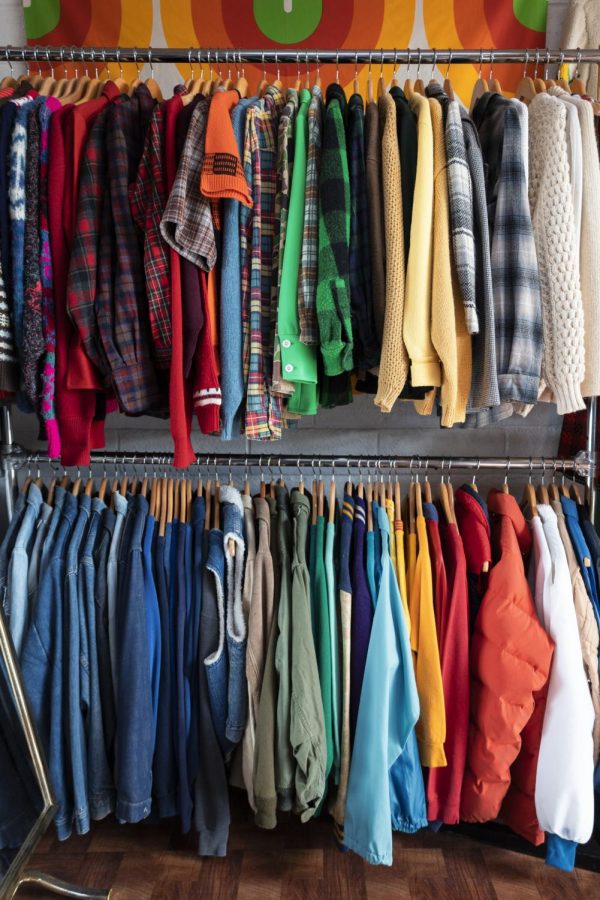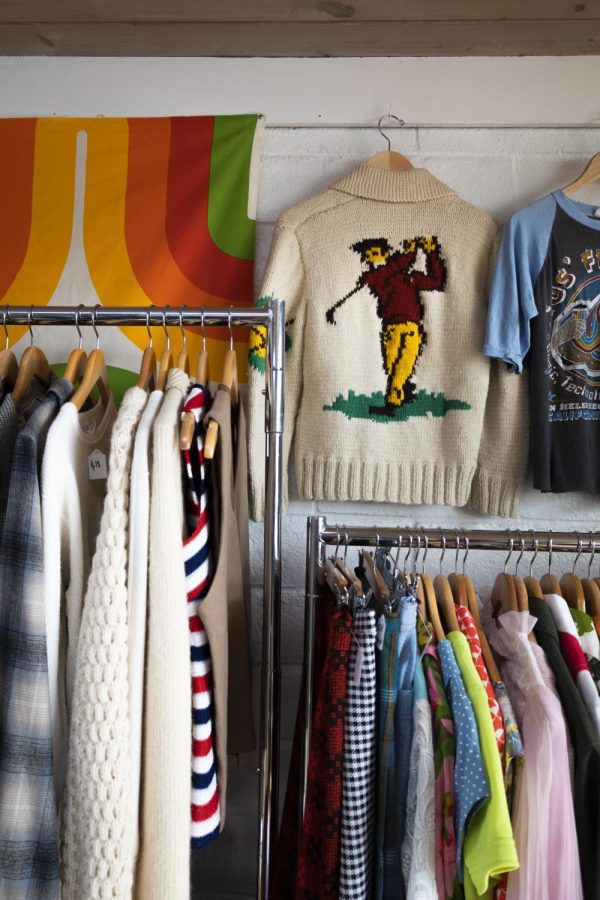 Jake defines their style as colorful and something for everyone. Chanti agrees, saying they try to keep it colorful and they've done their best to avoid gendering the sections of the shop to help patrons see the item for what it is.
Lint's clothes are mainly sourced from Portland. Jake drives to Portland a couple of times a month and fills his car with new pieces; he knows a guy who's worked in clothing for 40-something years and owns two pole barns full of clothes. 
"It's the kind of thing where you could get to the top and jump off and land in the down jacket pile and just sink down into it," says Jake.
Charlie says they have a fine line between things that are for sale and things that have become store fixtures, like the brightly colored cloth covering the center display.
When it comes down to figuring out what's vintage or not, Charlie says there's a lot of passive work and it really comes down to just being familiar with certain styles, colors and techniques, and Jake agrees, saying there's no definitive guide. 
Chanti says there are even encyclopedias about how to differentiate vintage clothes from modern pieces. 
Prior to becoming Lint, this building was many things, including a tattoo studio. But now it's the perfect starter space for this small business, though Charlie says they hope they'll be able to graduate to a larger shop in time.
Lint also sells on Depop @Shop_Lint and keeps their Instagram @Lint up to date with new inventory.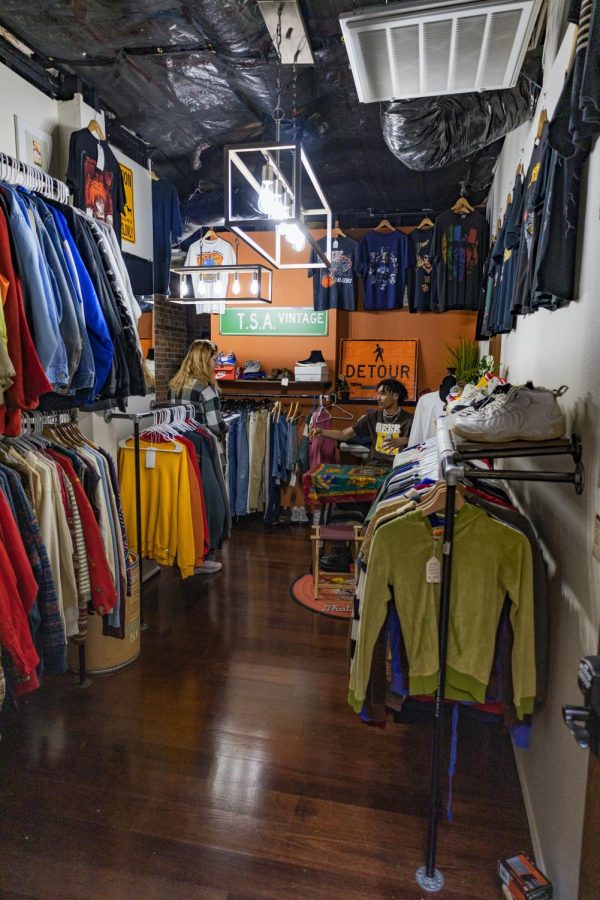 A few blocks away on 3rd Street, vintage shoppers can find a hidden gem in TSA Vintage, tucked away just up the stairs to the right of Koriander. They have an entirely different aesthetic, calling to mind the vibes of a compact Hollister.
TSA is co-owned by five friends from Modesto, California, and they offer a varied selection including high-end shoes from brands like Balenciaga and Zeitgeist alongside funky t-shirts featuring figures from movies, classic rock and other pre-2000s nostalgia. 
Co-owner Julian Howze explains the company was initially started in a friend's basement by Jairus Lovell, a budding entrepreneur who was the first Corvallis transplant. Jarius also came up with the name TSA, which stands for Thrift Street Avenue. Julian, Jairus and the other three co-owners, Miles Lewis, Angel Amezquita and Mitchell Morton, all relocated from California to Corvallis over a year or so before remodeling and setting up shop in this small but efficiently outfitted space. 
"I think the main thing about us is that our whole group of people we do it with is friends and we just want to uplift each other," says Julian. "And the fact that we're all doing it, we're all from Modesto, and it makes us feel…uplifted!"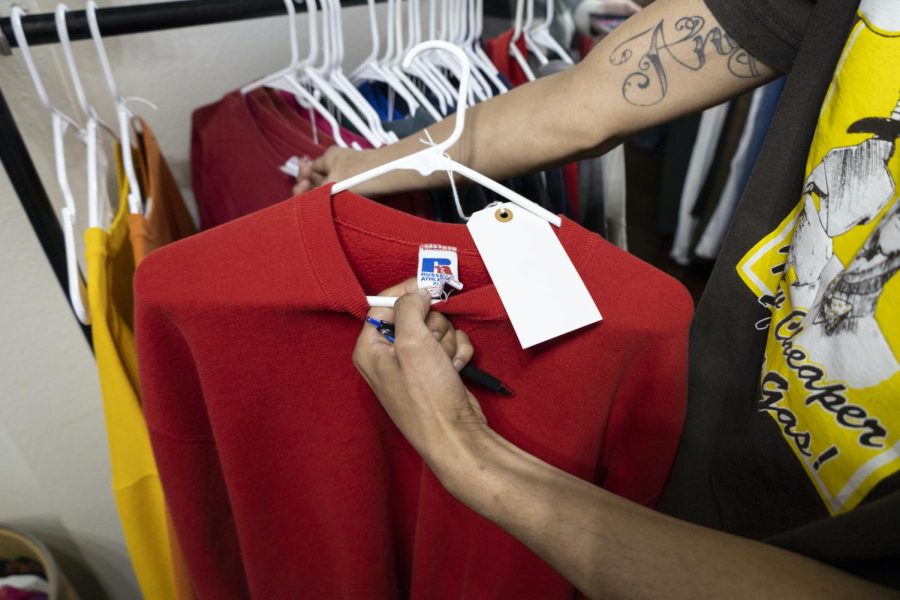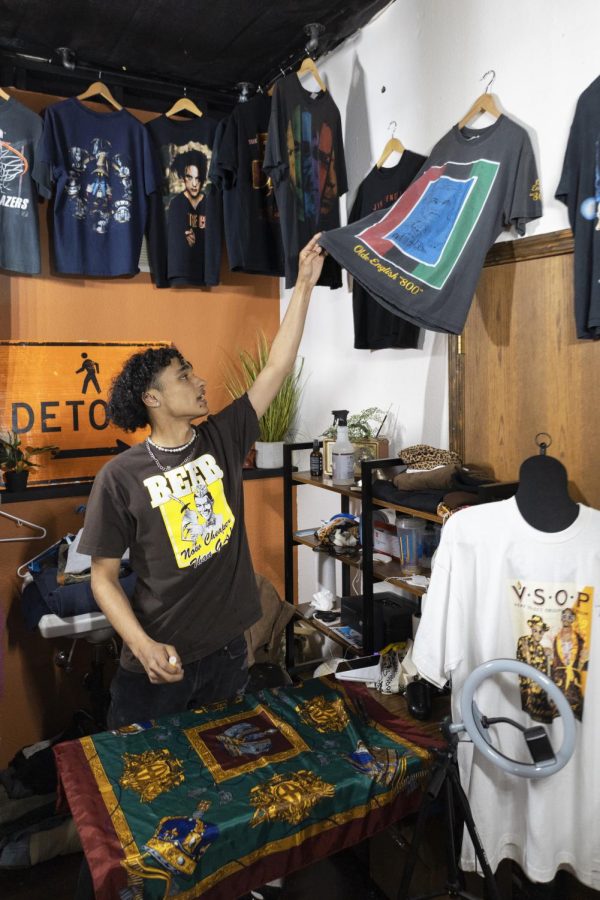 Julian says it's hard to define TSA's style because they like a little bit of everything, and they want to style everyone the way they want to style themselves. He spends a lot of time researching trends and items online.
"The style of TSA Vintage is… vintage," Julian laughs. 
TSA regularly updates their Insta @tsa_vintage with fresh inventory, and they also sell via their website. They hope to expand to markets like Nashville and Los Angeles in the future since they're limited to a small inventory and limited number of customers in the current space. But for now, Corvallis is a great place to start. 
"I hope whenever you come into our shop, we bring a smile to your face," Julian says. "No matter if you buy anything or not, we just want you to have a fun time when you come inside the store."